[Guest Post]
Many times, admin as well as individuals wants to save their crucial data from cloud to a local system. Well, there are several reasons due to which users want to switch to the desktop email application. Thus, Outlook is one of the most commonly used email programs with a great number of benefits. Therefore, everyone wants to find out a solution to convert Office 365 mailboxes to PST format. Now, we have come up with Office 365 Export software, which helps to backup Office 365 mailbox in PST format without any hassle.
Overview: Office 365 Export Tool
Office 365 Export is a top-notch software, which allows the user to backup Office 365 mailboxes in Outlook PST. It is capable enough to extract all items of Office 365 like mails, contacts, tasks, calendars, etc., in a seamless manner. With its self-explanatory user interface, one can easily export Office 365 archive mailbox to PST file format without using eDiscovery and PowerShell.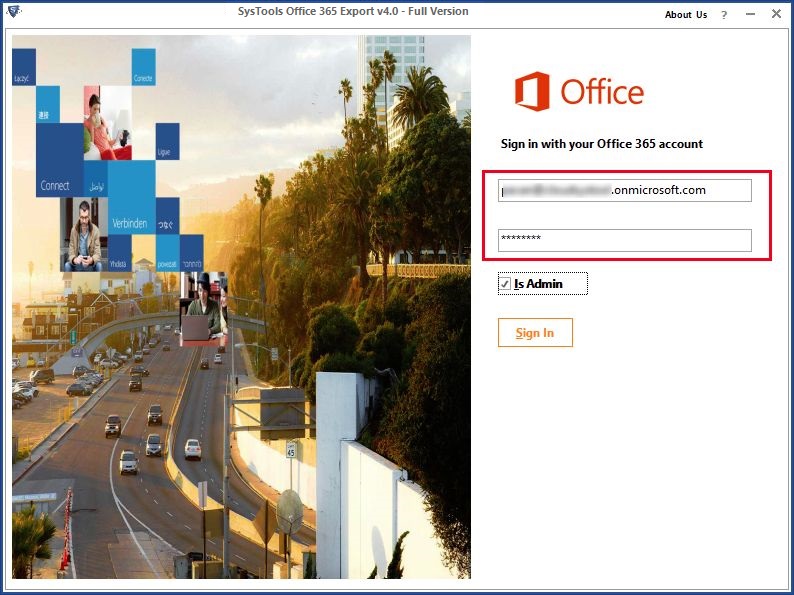 Impressive Features of Office 365 Export Tool
Export Emails from Office 365 Mailbox
The Office 365 PST Export tool is designed to move Office 365 data to another user account in the local machine. Moreover, it allows to convert Office 365 mailbox items email, calendars, contacts, journals, etc., to PST file. Make sure that Office365 admin account should be impersonated before converting data from Office 365 Mailbox.
Move Archive Mailbox of MS Office 365
With this application, users can export Office 365 archive mailbox or In-Place archive mails in different formats (PST / EML / MSG). One can easily retrieve emails according to a specific date range using Date filter option. Users need to select a particular date range using both "To" and "From" fields while extracting O365 Archive Mailbox or In-Place Archive mails.
Migrate O365 Data in Different Formats
The Office 365 Exporter tool facilitates a user to backup Office 365 mailboxes and recovers them in different formats, i.e., PST, MSG, and EML. It permits the user to get individual O365 emails along with attachments. However, Outlook installation is mandatory for the complete working of Office 365 export tool.
Option to Transfer Only Specific Data
Office 365 Export tool provides an option to fetch only limited data instead of extracting complete O365 mailbox. Users have to choose the checkbox located next to the desired mailbox or other components in order to migrate PST from O365 mailbox. This feature will not only save time but, prohibits irrelevant extraction when users try to move email from Office 365.
Apply Date-based Filter Option
Office 365 Mailbox Export tool allows the user to transfer Office 365 mails before regaining the entire data from Exchange Online account. Additionally, this software equips an option to select specific data lying within a certain date range when one can backup Office 365 mailbox to PST file. Users have to enter "To" and "From" field to filter data in a quick way. This feature will help to avoid unnecessary data while exporting Office 365 mailboxes.
Facilitates Pause & Resume Option
The data extraction from Office 365 will be stopped as many times as required. To continue this operation, users have to click on the Resume button. There is no need to start whole process to backup Office 365 emails to PST from beginning all the time it is paused. This is a unique feature in which internet bandwidth is mandatory for other tasks too. Further, no alteration may be made in email formatting.
Provide File Naming Conventions
Using Office 365 Export Tool, a user can save all components exported from Exchange Online in different file formats. Several naming convention is available when users try to backup O365 emails to EML format like Subject, AutoIncrement, Subject_Date, Subject_From, Date_From_Subject, Date_Subject_From and some other combinations.
Create Migration Analysis Report
The software generates a complete status report during throughout the migration process. A final report is generated at the end of extraction includes necessary details, i.e., user ID, calendar count, etc. Although, in case of Archive mailbox extraction, the report contains folder count, folder path, export count and fail count. Also, the progress tick is available at the end, which conveys the successful completion of process to backup Office 365 mailboxes to PST format.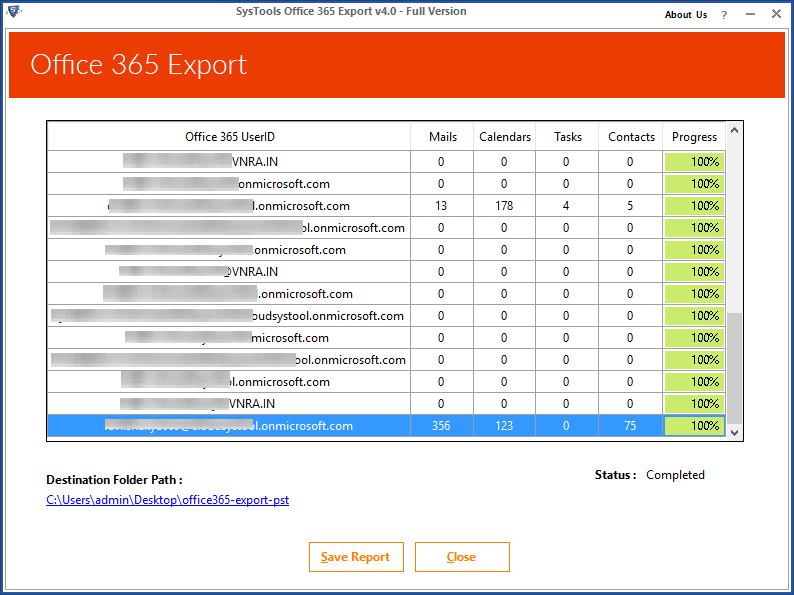 Pros
Tool is compatible with Windows 10 and all below versions.
Extract data from Office365 mailbox in a very short time.
Cons
MS Outlook installation is needed.
Does not support Mac operating system.
Final Verdict
After knowing above pros and cons of the product, we can wind up with the fact that Office 365 Export is the best-suited tool. Also, it has a simple, easy-to-use and interactive interface. Thus, it can be rated as 9.8/10 because it requires MS Outlook installation and configuration for its working. Besides this, there is no more negative point so, I can proudly say that there cannot be any other application like this.